In today's digitally connected world, choosing the correct data cabling is essential to turn your building into a productive and modern workspace.
Due to the evolution of technology, the demand on corporate networks continues to escalate, so too does the need for new and improved cabling solutions that can deliver the level of performance that companies require.
Category 5e (Cat5e)
Cat5e cables are an Enhanced version of the legacy Cat5 cables and the oldest cabling Category on this list. Over the years, Cat5e has been superseded by Cat6 and Cat6a, and is now considered an obsolete form of cable typically found in older buildings.
One of the main advantages Cat5e offers is that it remains the cheapest option. They deliver data transfer speeds up to 1 Gigabit, rated and measured at 100MHz. Cat5e cables have suitable capabilities for most small networks; however, they may not meet the requirements of future applications and emerging technologies that demand higher bandwidths.
In some cases, installing Cat5e cables can be considered a suitable option. For example, if a customer is moving into an office space with a short-term lease and has a low budget, installing Cat5e cables would be an ideal option.
Category 6 (Cat6)
The main difference between Cat5e and Cat6 cables is the transmission performance. Although both offer Gigabit data transfer speeds, Cat6 can support bandwidth up to 250MHz and allows up to 1,000Mbps transmission rates - over 100 metre distances (including patch cords.)
One of the biggest advantages of Cat6 cables is that it can support 10 Gigabit speeds. This, however, is with limitations on length up to 55 metres. Cat6 cables are usually a better choice than Cat5e, since they are more suited to support faster connection speeds and are worth the small increase in price.
Both Cat5e and Cat6 cables are backwards compatible, meaning Cat6 cables can be used in conjunction with Cat5, Cat5e and even older Cat3 cables and equipment due to their RJ45 connector.
Many commercial offices, schools and other new buildings have adopted Cat6 as a new minimum requirement instead of older Cat5e.
Category 6a (Cat6a)
The Category 6 Augmented standard, or Cat6a, has quickly become the cabling solution of choice for new installations, supporting Power over Ethernet (PoE) or data rates at 1 Gbps or higher.
It is the most future-proof cabling solution compared to its predecessors. Installing Cat6a cables enables 10 Gigabit data transfer speeds with bandwidth up to 500MHz over 100 metre distances. With the higher performance, Cat6a cables cost more and are slightly thicker, although still use the same RJ45 connectors.
Added to this, Cat6a also improves upon Cat6's capability to protect against alien crosstalk, (the interference caused by a wire pair in one cable inducing noise into other pairs of wires in neighbouring cables,) which will give you better performance.
As technology continues to advance, one of the applications that will benefit from Cat6a cable is the new generation Wi-Fi 6, as it's recommended that each access point has a minimum of two Cat6a connections.
Conclusion
The choice of cable depends on the current requirements of your network and how you foresee this need to grow in the future. Given that cabling networks tend to remain in place for many years, it therefore, makes sense for Cat6a to become the first-choice cabling solution for any new installation, particularly as the costs of this innovative technology continue to decrease.
Added to this, most computers and laptops nowadays are fitted with 10GbaseT NIC cards, therefore installing Cat6a will be sure of being able to exploit this bandwidth. Industry standards that have previously recommended Cat 6A cabling only for data centre environments now also recommend it for most LAN installations, due to new applications demanding higher performance, more bandwidth, faster speeds and low latency.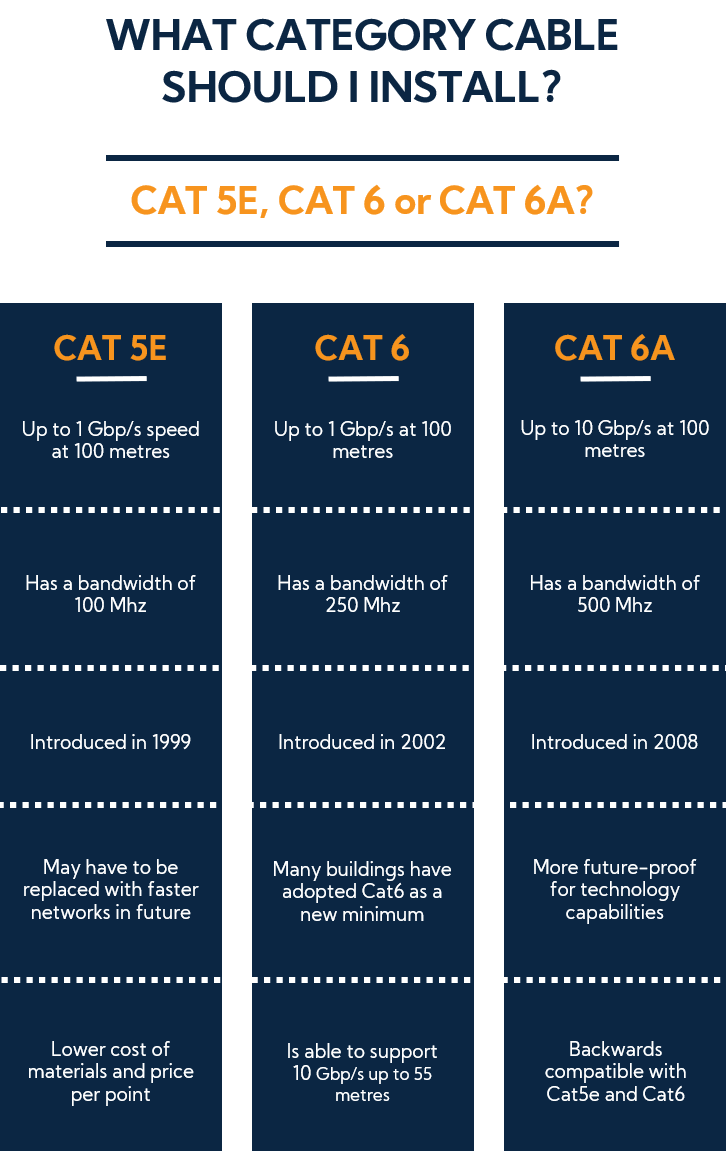 Comfinity cover all aspects of data cabling services, including Cat5e, Cat6 and Cat6a. We can help you choose the most suitable solution for your business. Whether its additional data points installing, upgrading your existing cabling or a brand-new installation, we can offer a suite of services to meet your exact needs. Added to this, to guarantee the quality of our installations, we can offer fully warranted systems for product and performance of up to 25 years.