Construction Products Regulation, or CPR for short, was created by the European Union in 2017, with the focus on improving the safety of buildings. It aims to provide a common technical language to assess the performance of construction products, categorising them into performance classes known as Euroclasses and explains what happens when they are exposed to fire.
In layman's terms, CPR is a set of rules for products in construction to follow to ensure that they are safe and fit for purpose. With regards to data cabling, this concerns a cable's contribution to fire.
CPR applies to all permanently installed cables within a building. This includes all data, fibre optic, power and control cables in fixed installations however, patch leads or cables are not affected.
Does Brexit affect this?
No. Brexit does not affect the implementation of CPR in the UK. As stated on the UK Government website; "All existing European harmonised standards will become UK designated standards". The only difference will be a GB mark instead of a CE mark.
What does Euroclass mean?
Within the CPR, there are 7 classes that grade each cables contribution to a fire, known as Euroclass. This is named in this way because the CPR is a regulation originating from the EU.
The classes are as follows: Aca, B1ca, B2ca, Cca, Dca, Eca and Fca.
Added to this, there are additional criteria for some of the classes in terms of smoke production (s1a, s1b, s2, s3) acidity (a1, a2, a3) and flaming droplets (d0, d1, d2).
So, for example, you may see a listing such as B2ca s1a d1 a1. This would mean that the cable has a minimum contribution to fire (B2ca) has little smoke product (s1a) has no flaming droplets that last more than 10 seconds (d1) and finally, less emission of acid (a1).
What Euroclass should I choose?
The class of cable that you choose for a specific scenario will depend on what it's being used for. For example, a minimum of B2ca is recommended to be used on projects based in locations such as hospitals, schools, airports, hotels and so on because the contribution to the fire from B2ca cable is very low.
Below is a beginner's guide we have created to the Euroclass levels: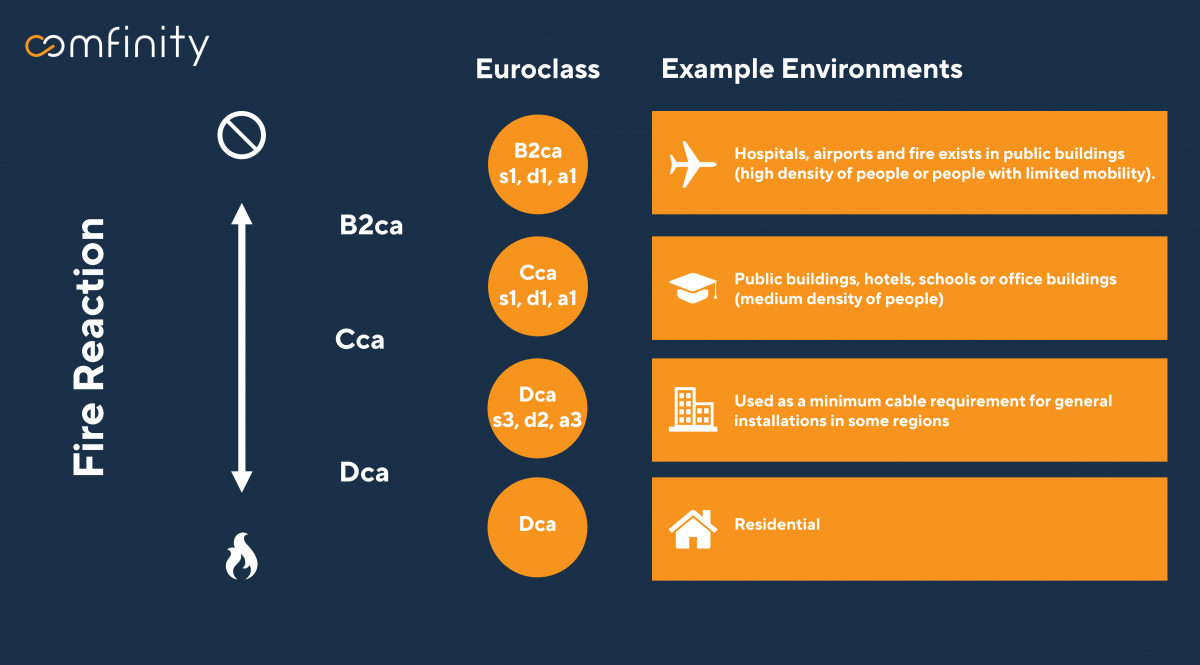 Why is LS0H is no longer enough?
LS0H or LSZH stands for Low Smoke Zero Halogen. It was originally designed to meet three IEC standards: IEC60332 (Flame Spread), IEC60754 (Smoke Acidity) and IEC61034 (Smoke Emission). However, as CPR requires additional criteria and testing procedures, simply buying any cable labelled LS0H or LSZH, is no longer enough to ensure it reaches the minimum standard.
What can I do?
From July 1, 2017, it is a legal requirement that the cables manufactured must comply with CPR. This means, as an end-user, it is your responsibility to ensure that the CE/GB labelling is present on the cable and packaging and to check that there is a CPR rating for all permanently installed products.
Cables that were placed on the market before this date are not subject to this legislation and can be installed as such. However, many buildings are now removing these cables and replacing them with CPR compliant cables.
Comfinity offers free on-site surveys to help customers identify any potential risks and how to reduce them by proposing CPR compliant solutions. If you have any queries about your current data cabling or would like to know more, please give us a call on 0115 772 23 88.