With more restrictions set to lift and the Government's four-step roadmap offering a route back to a more normal life, many business owner's thoughts now turn from working from home (WFH) to planning a safe return to the office.
As a result, Facilities and IT Managers are considering changes to the layout of the workplace, such as moving workstations further apart to help their employees get back to work safely. Therefore, additional data outlets may need to be installed or moved to accommodate the new positioning of PCs, phones, printers and Wi-Fi points.
Due to the ongoing situation of COVID-19, the demand for us to undertake cabling site surveys has increased where a customer is considering changing desk layouts and require new data cabling and network points installing. Below is an example of one of these site surveys: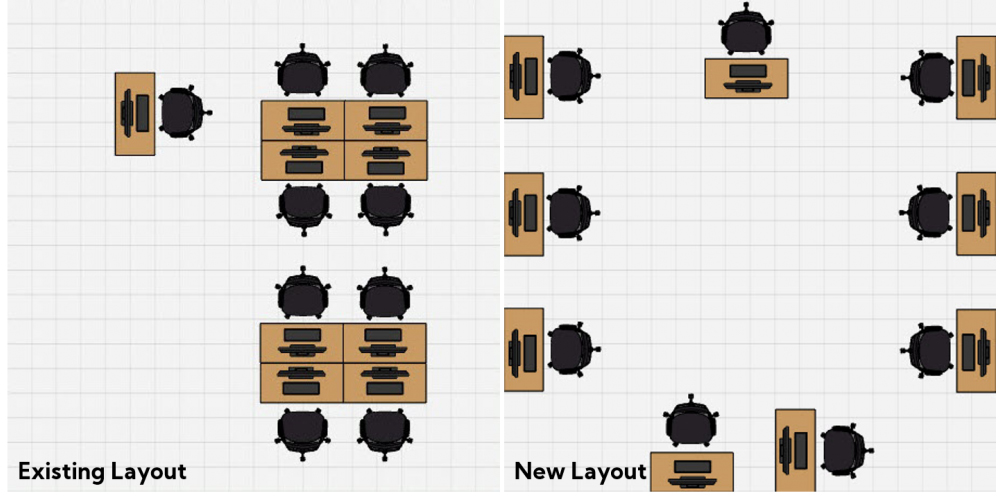 In the above example, prior to the outbreak of COVID-19 the existing office layout was using floor boxes to provide each workstation with both power and data.
The new layout had been designed specifically during COVID with each workstation being 2 metres apart for social distancing measures to meet Government guidelines. This new layout required additional data points installing, therefore a number of options were presented to the customer – the main one being the building had a raised floor.
This option offered a future-proof solution, which we installed additional data cabling with a 5-metre coil underneath the floor in case the office wanted to revert to the original layout.
From simple cabling moves, adds and changes to complete design solutions, Comfinity is experienced working in a mixed range of customer environments, ranging from schools and universities to commercial offices and national establishments. All our engineers wear facemasks and carry hand sanitiser at all times whilst maintaining social distancing during on-site visits.