The design of office data cabling can vary based on a building's design and the customer's needs and specifications. Whether cables are installed via the ceiling or under the floor, they are typically terminated at a wall outlet. Raised floors, however, offer another termination option, either through a GOP box or raised-floor boxes.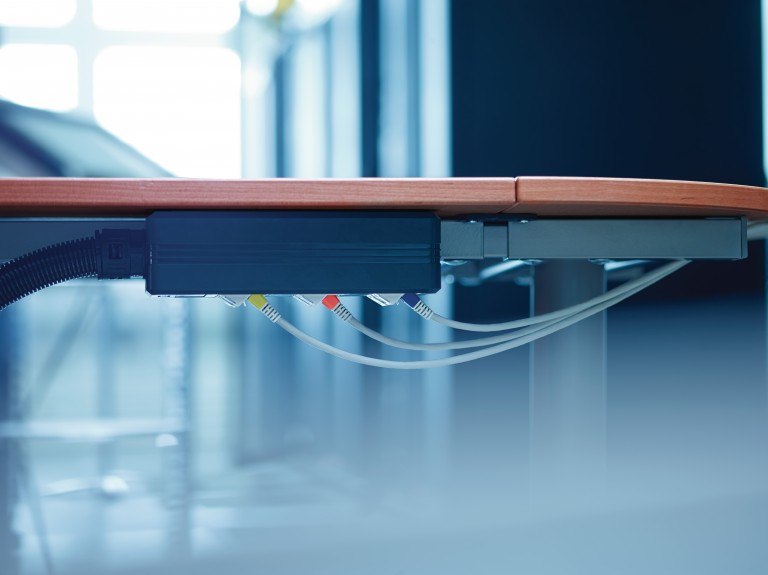 GOP Box
GOP stands for Grid Outlet Position, and was developed for grid concepts in raised-floor environments. There are many advantages choosing this option and they come in a variety of versions, from 2-way up to 12-way. GOP boxes are typically attached to the underside of a desk with a degree of flexibility to be positioned within the radius of a flexible conduit passing through the floor tile via a grommet to suit the office layout.
A GOP box provides a closer connection point than a floor box if installed on the underside of a desk. This creates the opportunity for shorter patch cables to be used, without trailing cables on display from floor to desk. This therefore reduces the risk of health and safety issues that could be faced.
Offering an easier termination process, GOP boxes are much faster to install than a floor boxes – reducing labour cost and site days required. Added to this, the cost of a GOP box is less than a floor box and be ordered completely pre-terminated and factory-tested.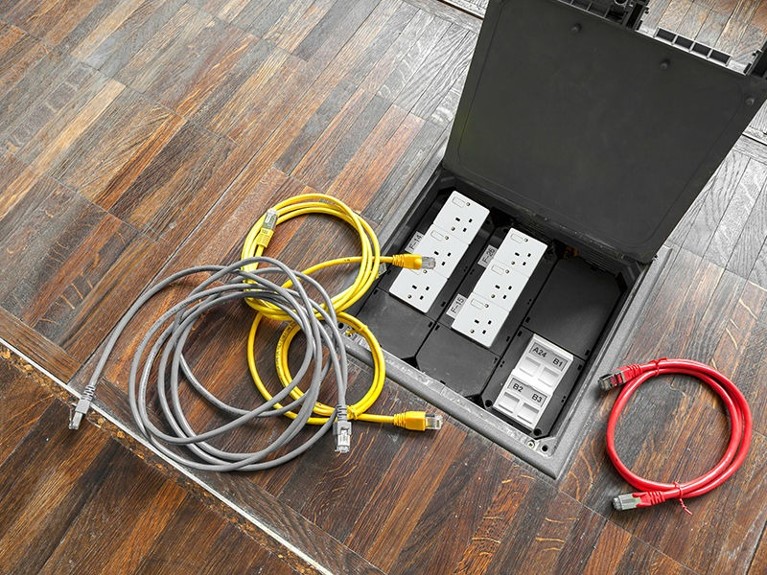 Floor Box
A floor box offers easy access to power, voice, data and video, connecting a workstation from a single consolidation point. It is a more versatile option than a GOP box as it is considered an all-in-one solution for all necessary requirements. With the various services housed within the box, a metal separator divides the power and data from any interference and is available in 3 or 4 compartments.
Floor boxes provide easier expansion when adding data cables, although if required to be moved, it can be difficult depending on if the power is hard wired and if other services housed in the box are needed to be reconfigured.
There are many design options available with a floor box and they can be customised to match the flooring to allow a discrete installation.